Zoom is the latest generation of meetings and video conference software. At Live-English.net, we encourage our students to use Zoom for their English lessons online so that they can get the best learning experience.
How can I start learning English online via Zoom?
Register for a free online English lesson on our website.
Choose the option "by zoom".
Sign up on https://zoom.us/ with the same email you used to register for the lesson.
Download the application to the device of your choice: computer, tablet or cell phone.
Make sure you will not miss your English trial lesson by scheduling a reminder and putting it in your calendar.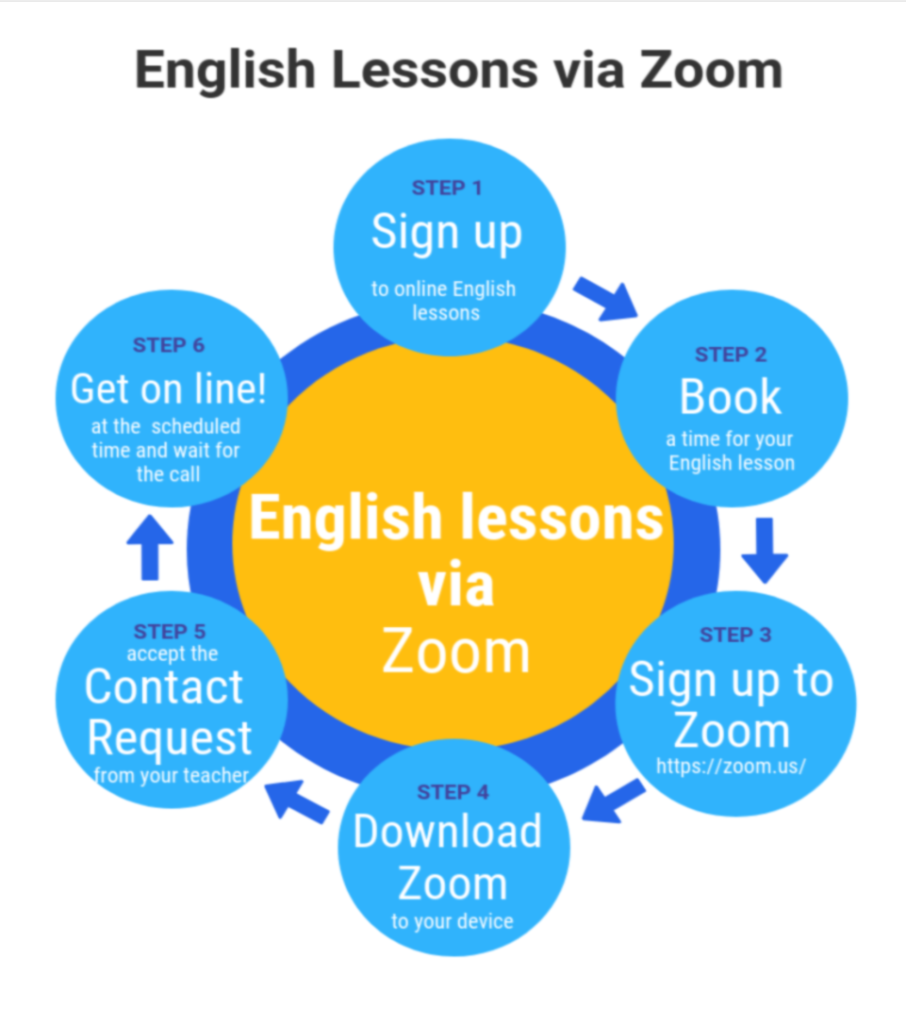 On top of getting an evaluation of your English level and discussing your objectives and strategies to reach your goals with a language professional, you will be able to get a taste of what it means to study online via Zoom and see how our teachers can help you improve your English.
What are the advantages of English lessons by Zoom?

It's true, today there is an incredible range of video conference products that facilitate real time communication. So why is our best pick for our online English students is zoom.us?
Remember, not all technology is made equal.
It was not an easy task to find a one-size-fits-all solution that will satisfy teachers' and students' need for crisp video, reliable sound quality, and ease of use, like joining, participating, screen sharing, annotations.
Skype is a reliable tool, of course, but not always, and there are many new generation video conference software that leave it behind.
We have tested numerous cloud-based video conferencing solutions to find an alternative that would hold where Skype fails and each had serious drawbacks.
We needed a software that was not just a good conference-call, but that would answer the specific needs of an online English conversation lesson. A software that would use the newest technology, that would allow high quality video and audio, that would make it possible not only to share screens in real time, but also to make annotations, visible to all participants. Also, it had to function on the go, on cell phones and tablets without losing any of its advanced features.
And Zoom was the best solution we found!
It's intuitive and easy to use. All you have to do is register and download it.
It provides HD audio and video, without delays or interference.
It can be used from any device with the same efficiency and the same rich features.
It allows screen sharing, content sharing, live annotation, messaging and recording.
The Zoom platform is accessible by phone if one of the participants doesn't have access to internet or the zoom application.
Multi-device – all your devices are supported.
Like every new software we approach, it could seem a bit complicated while taking first steps.
That's why we created especially for our English students a comprehensive guide to our favourite software.
Go to the Knowledge Base: Using Zoom for your English lessons
With the technology brought by Zoom, you will forget that your English teacher is a few thousand miles away from you!