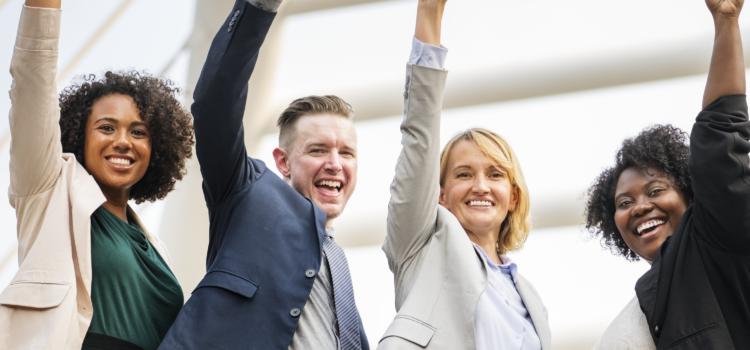 Learn English online with a native English teacher from the convenience of your home or office through Zoom, Skype or phone. Our lessons are 100% in English whatever your English level is, because we believe it is the best way to learn English and to achieve real results.
We offer a variety of online English courses to choose from.
Online English Courses
Our BASIC formula is aimed helping you feel more confident speaking about general topics and communicating in English in everyday situations.
Our PRO and PREMIUM formulas are targeted to your exact needs, whether you want to improve your English for work, personal development, to prepare for a job interview or an exam.
You can choose from:
Spoken English Course: a personalized course to help build up your confidence in spoken English through specific conversation topics. To prepare for your lesson pick an article from our Study Box, our learning platform, and discuss current affairs, culture, technology, and many more topics with your teacher. You will get some key vocabulary to rehearse and use in different situations, as well as questions to make sure you understood the material properly.

You can choose the right track for your needs according to your learning objective: American accent, British accent, Mix of accents, Young learner or General English for Lower levels.

Professional & Business English course: English is used widely for professional reasons and in business situations. In order to help you improve your Professional English, whether you need to feel more comfortable with overseas clients, or speaking to colleagues,  for we have developed a multi-track course aimed at reviewing key vocabulary in the field of your choice.

You can choose the right track for your needs, that is the relevant to your learning objective:
General Business English,  Finance & Accounting, Human Resources, Sales & Marketing, Science & Technology, Medical English and Personal Development.

Job interview in English: No professional situation is as stressful as a job interview, especially if it is held in a language that is not your mother-tongue. Unless you have a team of teachers that support you, train you and make you feel comfortable and at ease when answering all the typical job interview questions.  That's what our special course for Job interview in English was created for. It might be the right key for your overseas career or for that executive role you are dreaming of!
English Exams preparation: Preparing an exam that assesses your level of English is a stressful business. But it is also a great opportunity to… improve. Our students get to be trained by professional teachers who specialise in English qualifications and know the difficulties and the pitfalls of each and every one of them.  You will get all the support you need, weather you need to take a Cambridge exam like the FCE or the IELTS, or an American exam like the TOEIC or the TOEFL exam. We can also help you prepare for any other English exam you may need to pass.

When you choose this course, you get access to teachers who have the most experience with you specific exam: IELTS, TOEIC, TOEFL, Cambridge Exams, French Prepa program or other Professional Exams.

English Writing Course: Writing in English is not as easy as it may sometimes seem. Depending on what you need to write, whether it's a formal letter, an email or an essay, you need to follow specific guidelines and be comfortable with the expressions that are commonly used. Our English Writing Course will help you get all the tools you need to write correctly, you will even get assignments that will be corrected and commented to help you improve your English writing skills.
Business English Writing course:  If writing in English correctly is not always easy, writing in a professional or business context is even harder, since you need to have specific knowledge of fixed expressions or figures of speech for every professional context, that may vary depending also on the register of formality you need to use. To help our students with this challenging task we developed our Business English Writing course.  We recommend it to all those professionals who need to review and improve their writing skills to feel more comfortable during commercial correspondence or exchanging emails with partners, clients and prospects.
With the PREMIUM formula, on top of the many advantages, you can bring your own material to the lesson: rehearse a presentation, a speech, prepare a conference call, write an email, go over an article or any other document. We highly recommend it if you are actively using English at your workplace and need to speak and write correctly.
---
Not sure what to choose? Start with a free trial lesson and discuss your needs with one of our teachers.
---
How do I choose the right English Course?
It all depends on your short term and long term goals.
English Job interview preparation courses for example are great if you already have a job interview scheduled in the coming days or weeks. If you just want to feel more confident in a professional environment, then the business English course will best answer your needs.
Regarding the exam preparation course, it's usually a good idea to prepare at least 3 months in advance (ideally you should devote 3 to 6 months to the exam so that you know what kinds of test you have to take, what mistakes and traps you should avoid and what vocabulary you need) but you can also do it as an intensive course and take lessons every day or almost.
If you intend to take lessons in the long term, then our English conversation course will help you get the confidence you need to discuss any kind of topics, to express your ideas and to defend your point of view in English.
Before you register for one of our English courses, make sure you take your  free English trial lesson (no credit card required) to discuss your specific needs and have your English level evaluated by one of Live-English advisors.