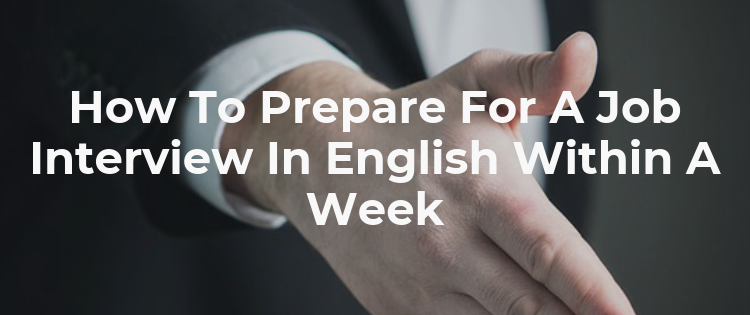 You have done it!
After searching through job descriptions, and advertisements, then sending out your CV to a multitude of companies, you have secured an interview for a job that really interests you.
You are excited & nervous, all rolled into one, however, on top of the normal pre- interview jitters, there is also one additional concern you have been told that the interview will be in English.
Interviews are stressful enough, but to be interviewed in language that is not your native tongue is quite a challenge.
Do not despair with a bit of forethought, preparation, research and planning you will be in the position to "ace" the interview in English within a week!
6 Steps to Prepare For Your Job Interview in English Within A Week
1. Research The Company.
Nowadays this is so simple, look online, find out all you can about the company their size, their training program, the countries they operate in, who the key personnel are. Think about how you would fit in, what excites you about the company, what prospects there are for development, and what the role actually is.
Make notes, then when you are asked
Why do you want to work for our company?
What attracts you to our company or this role?
Where do you see yourself five years from now?
you will have the answers clear in your mind.
2. Ask Questions – Contact the HR department, ask them to clarify a few points
How long will the interview be?
Who will be interviewing me what is their name or role in the company?
Will the whole interview be in English, or will have to answer a few questions or make a presentation in English?
Is there a written English test ( some larger companies do this as part of the interview process is the candidate has to write reports or emails in English)
How many interviews are there in the selection process?
Once you know these answers, you can prepare.
Be aware that the majority of international companies normally do not hold the whole interview in English.
There are exceptions to every rule so expect a full English interview will be held
If the interviewer is a native speaker who cannot speak your language.
If the majority of your working week will be spent using English.
Often the interview will be conducted in your native tongue but they will ask you some questions about yourself, your skills, or past experience in English, to assess your language skills.
Knowing the length of the interview helps you gauge your answers and not become distracted & ramble on.
Knowing who is interviewing you helps you understand how much of the interview will be in English.
Knowing the number of interviews in the process is helpful, as normally the initial interview is in your mother tongue.
3. Matching your skills
Look at the job description and requirement, what skills, qualifications, qualities, knowledge and expertise are they looking for in the successful candidate?
Look at your own skillset – how do you match up?
Do you have transferable skills from former employment that you can bring with you?
Can you explain your key skills, strengths, and experience with confidence.
Can you give examples of how you have dealt with problems, responsibilities, and organizational skills?
Can you sell yourself in English?
4. Be aware of cultural differences in interview styles
International job interview process includes not just communication. It also includes the way a person dresses, their body language, attitudes, and other cultural differences.
If your interviewer is from an English speaking country they will expect clear concise, direct answers to the questions sticking to the subject, this is something you will often need to practice.
The American business culture everyone is taught to promote themselves – sell themselves –.Emphasizing your accomplishments is key.
In other cultures promoting yourself can be seen as assertive, brash, or rude so having some background on your interviewer can help you practice accordingly.
5. Improve your listening comprehension
In an interview you have to listen to understand and respond to many questions, this is made harder if the interviewer speaks quickly or has a heavy regional accent.
To increase your listening comprehension listen to the radio songs or watch movies in English.
Watch job interview videos on You Tube, so you are familiar with the types of questions you will encounter.
Practice ways of clarifying the question, or asking for the question to be repeated.
6. Last But By No Means Least – Practice Makes Perfect
For any job interview even in your own language there is no substitute for practice so invest in your future.
It is normal professional practice nowadays get assistance from a job interview coach before an interview. Therefore, it stands to reason that an English teacher who not only is a native speaker but also has some interviewing experience would really be a great advantage to someone who has an upcoming English Job interview.
You will be amazed how 30 minute lessons each day before the interview, practicing & focusing on key questions will to boost your language skills, increase your fluency, accuracy and confidence so you feel so much more at ease on the interview day.
During the lesson you will:
• Focus on your skills.
• Develop answers to interview questions.
• Put you at ease when speaking about yourself and your past experience.
• Help you form clear concise answers to question.
• Increase your listening comprehension.
• Correct your spoken grammar and sentence construction.
• Increase your business vocabulary.
The lessons give you a safe place to test out answers, practice your language skills so you feel as prepared as possible.
Good luck with your interview process.
If you follow these suggestions you are well on the way to being successful and being offered the position you applied for!
Job Interview English Vocabulary
Forethought – noun careful consideration of what will be necessary to plan something
Jitter – noun informal feelings of extreme nervousness.
Key Skills – phrase top job related skills and values anybody possesses
Multitude – noun a large number
Ramble on – phrasal verb to talk or write about something for a long time in a way that is boring, annoying, or confusing.
To "Ace" something – idiom to do well in something.
Contributor: Teacher Rachelle
Rachelle has been an online English teacher at Live-English.net since 2009. She is from the UK. She is a professionally qualified as an English teacher, coach and manager with over 25 years experience. She has a background in health & social care, business & education. She also holds degree in Management, specializing in HR.
Rachelle loves teaching online, especially preparing students for Job Interviews, Cambridge Exams, and Business presentations. Her hobbies include healthy cooking, creative writing, country life , travel, reading, history, and being a grandmother!