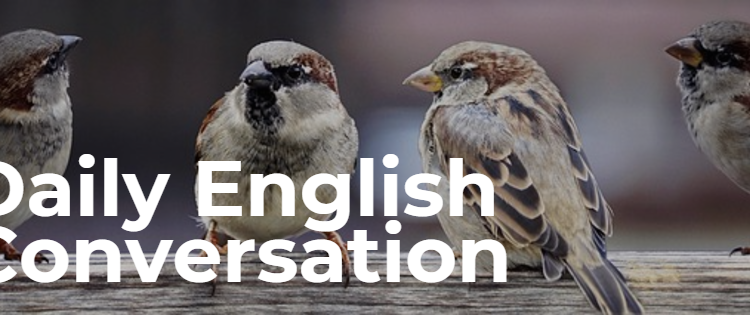 Have you ever felt like a rabbit in headlights when someone asks you something in English?
Are you struck dumb when you are in an English-speaking environment?
If you answered yes to either of these questions it may mean that you need to start incorporating English into your everyday conversations.
Most people would agree that when you study a language there are moments when you just can't find the right word for what you want to say.
It doesn't seem to matter how many hours you spend revising grammar pages or how many exercises you do in your book, at the time of wanting to speak, nothing comes out! Why is that?
Speaking is a skill that we develop over time and this can result in some learners feeling frustrated. They find that they can't express themselves as quickly or easily as in their own language. Others are scared that native speakers will laugh at them or won't understand their pronunciation.
These challenges can really affect a learner's progress and confidence, and we all know that if we don't feel comfortable doing something we are more likely to stop doing it.
In a world where speaking English is becoming more and more essential for international communication, it's a good idea to try to build English conversations into our everyday routines. Here are some suggestions for you to try!
Why not ask some colleagues at work to form an English speaking group? Every time you see each other at the water fountain or in the cafeteria you could exchange a few words in English about how your day is going or what your plans are for after work, for example. You never know, they might even invite you to come along!
Would you be a good teacher? A surprising number of native English speakers could be living just around the corner from you, looking for the same opportunity to practice your language! Find a café and discuss topics of interest half in your language and half in English, it's a great way to increase your vocabulary and meet new people!
Who said conversations couldn't be online? How about putting the status of your social media account into English? You'll be amazed at how many people will respond to this in English too, opening up plenty of opportunities to chat and interact with others.
Whatever you decide to do, remember to keep your activities enjoyable and relaxing. Be patient with yourself and be realistic with your timescales. Keeping a video diary of your progress is a good way of seeing for yourself how much progress you have made. After a few months you will be impressed at how many new words you understand!
Vocabulary & Expressions
A rabbit in headlights – idiom – frozen, you can't move
To be struck dumb – idiom – unable to speak because you are shocked or surprised
Develop – verb – grow and become more mature, improve.
Challenges – noun – difficulties obstacles things to be overcome
Likely –adjective – might happen or be true; probable
Possible Questions To Ask Yourself
Have you ever experienced a rabbit in headlights feeling when speaking English?
Which of these suggestions do you prefer and why?
What other suggestions you could make?
Contributor: Teacher Janine
Janine is originally from Yorkshire UK, she is a professionally qualified teacher with over 15 years' experience, she has taught students of all ages Business English and academic English . Janine likes to help students become more fluent and confident with their language by testing the waters. Being one to "never let the grass grow under her feet" Janine enjoys learning new things, languages, travel and is very proud of her Yorkshire roots!