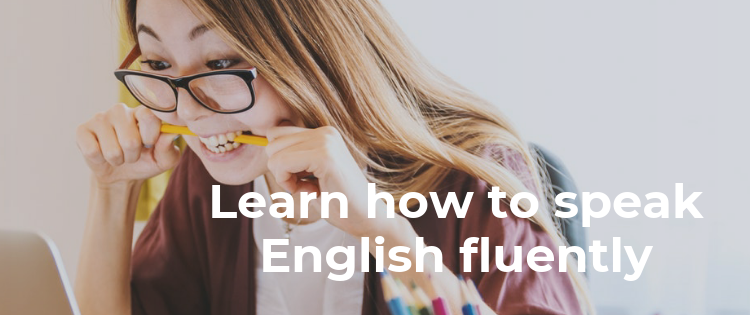 Speaking English fluently is a dream for many of us, whether it is to have new opportunities professionally, to travel the world or just to watch our favorite series in English! It is entirely possible to speak fluent English by investing a little time and energy. Learn how you can become fluent in English!
Work on your English every week
To learn how to speak English fluently, there is a golden rule: practice, practice and more practice. As the saying goes, practice makes perfect! Learning a new language demands a sustained effort. By dedicating time every week to learning English, you will be able to truly progress. Don't start skipping weeks and making excuses otherwise chances are you won't progress much. Learning English requires a little discipline.
Practice with a native English teacher
Working on your English with a private tutor is the best way to learn how to speak English fluently. Learning English online on your own is extremely difficult and you won't have anyone to correct your mistakes and encourage you. Live-English.net offers English conversation classes with a private tutor by videoconference, Skype or telephone. You can take classes from the comfort of your home without losing time commuting. All Live-English.net teachers are native English speakers and will be able to help you improve your spoken English and better write in English as well. The Live-English.net classes are personalized and adapted to your level of English, your own learning pace and your needs.
Set realistic goals
It is critical to be realistic and lenient with yourself at the start of your journey! You will not become perfectly bilingual in just a few weeks! Setting a goal that is too ambitious could lead to discouragement and frustration. Learning and mastering a new language requires time. Learning English over a longer period of time is also beneficial for long-term assimilation. Rather than saying "I want to speak perfect English in 6 months" set a goal that is SMART: Specific, Measurable, Attainable, Realistic and Timely. As such, a much better goal could be being able to read an English newspaper article without using a dictionary in 6 months from now.
Go for it!
Take advantage of all the situations of daily life to practice your English! A tourist stops you in the street and asks for directions? Don't be afraid, answer in English! You will see, he will be very grateful for your efforts to speak in English, even if your sentences are not perfect! There is a song in English playing on the radio? Try to understand the meaning and the lyrics. An American movie is showing on TV? What if, for a change, you watched it in English with the subtitles? All these little things will contribute to improving your English in order to speak fluently!

To learn how to speak English fluently, you have to give it some time! Live-English.net can help you on your journey. Be sure to set realistic objectives and go for it!